OUR TITLES ARE AVAILABLE AT AMAZON AND LOCAL BOOKSTORES
NOTE: Retail book-sellers can order titles directly through Ingram Wholesale at the standard discount.
Confessions of an Introvert

The Solitary Path to Emotional Maturity

Author: D. Stephenson Bond
Release date: November 20, 2018
Price: $23.95
Pages: 312
ISBN: 978-0-9823079-9-1
Description: 6 X 9 quality paperback
D. Stephenson Bond writes a compelling and compassionate memoir of the ups and downs of everyday life as seen by a Jungian psychoanalyst who committed his life to the quest for knowledge about personality development in order to understand the mystery of his own near-death experience. Tracing the steps of each stage of personality development through which every life must pass from childhood to maturity, Bond reflects on thirty-five years of experience in Jungian psychology to tell the story of radical self-acceptance and individuation.

See Paperback from Amazon
| | |
| --- | --- |
| Buy Kindle Exclusive Edition | Buy from Local Indie Bookstore |
Radical Frugality

Living in America on $8,000 a Year

Author: Nic Adams
Release date: December 1, 2011
Price: $2.99
Pages: 149
ASIN: B006GG0U0C
Description: Exclusive Kindle Edition
Commit just one evening of your life to financial freedom and this easy-to-read book will show you how to be debt free. Radical Frugality tells the story of 5 people did it: Paul, 27, discovering how to overcome student loan debt; David and Winona, late 40's, living their retirement dream today; and Dan and Charlotte, family of 4, with an underwater mortgage. Waking up every morning debt-free with cash in your pocket helps your brain feel safe, secure, and smart.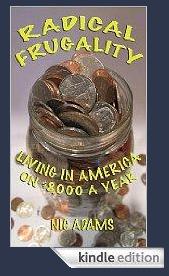 Buy Kindle Exclusive Edition only $2.99
The Battle for Tomorrow

Book 1 Ilon the Hunter series

Author: Frederick Bell
Release date: May 1, 2011
Price: $23.95
Pages: 249
ISBN: 978-0-9823079-2-2
Description: 6 X 9 quality paperback
QUOTE: "What if nature's revenge needed a little help? Ilon knew in his heart what it meant to be scheduled for extinction, but how could he ever convince the Egris, hunted for their hides, to fight? The Battle for Tomorrow is a tale of deep ecology with a militant edge, of animal instinct colliding with technology in a battle where the stakes are extinction or planetary conquest."

See Paperback from Amazon

Buy Kindle Exclusive Edition
Special Price $2.99


Buy from Local Indie Bookstore
a novel of hope

Author: D. Stephenson Bond
Release date: April 15, 2010
Price: $23.95
Pages: 221
ISBN: 978-0-9823079-0-8
Description: 6 X 9 quality paperback
QUOTE: "How do you go on your first date after losing your husband on 9/11? Sensitively written, this probing novel explores the aftermath of 9/11 on an intimately human scale, reaching deep into the human psyche to touch on themes of the healing power of Jungian psychoanalysis rarely seen in fiction, and utilizes Francis Hodgson Burnett's The Secret Garden as the literary background for a penetrating exploration of grief and healing. "


See Paperback from Amazon

Buy Kindle Exclusive Edition
Special Price $2.99


Buy from Local Indie Bookstore
Japan's New Local Industry Creation

Joint Entrepreneurship, Inter-organizational Collaboration, and Regional Regeneration

Author: Yushi Inaba
Release date: March 15, 2009
Price: $23.95
Pages: 232
ISBN: 978-0-9823079-1-5
Description: 6 X 9 quality paperback
Quote: This book introduces the concept of joint entrepreneurship in regional regeneration projects in Japan. Dr. Inaba provides significant new insights and theory which will be of great interest to scholars and practitioners of entrepreneurship, collaboration across organizations and regional development.


See Paperback from Amazon